Best Cat and Dog Shampoo for Sensitive Skin
If you have a dog or cat with sensitive skin, you know how difficult it can be to find a gentle shampoo for them. Many cat and dog shampoos contain harsh chemicals, fragrances, or synthetic chemicals that can irritate your pet's skin and cause itchiness, redness, or dryness. That's why you should choose a shampoo made especially for sensitive skin, with vegan ingredients that can soothe and moisturize your pet's coat without stripping them of their natural oils.
Cats and dogs are known for their grooming habits, which is great for their well-being. It helps them to maintain their wholesomeness. Effective cleaning and grooming is not only good for their health but also makes your bond stronger with them.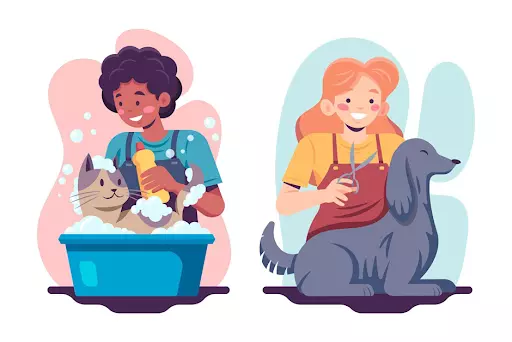 Prevention is better than cure as it helps to save from fatal diseases that pets may get. For this, it is necessary to keep our pets vaccinated and keep them groomed. Grooming includes a lot of factors like brushing, trimming, haircuts, and bathing.
For effective cleaning, bathing is the best option as it removes dust, parasites, and debris from their body to keep them clean. But be sure while bathing them, one should always use specially formulated cat and dog shampoos, and the water should not be warmer than their body temperature.
How to Know if Your Dog or Cat Has Sensitive Skin
A few symptoms of cats and dogs who have sensitive skin are:
●
Dry and patchy skin- patchy and flaky skin indicates that your pet has dry and sensitive skin.
Rough coat- Pets who have sensitive skin possess dull and dry coats

Odor- foul and unpleasant smell leads to skin infections and allergies.

Scabs on the skin- allergies can cause small bumps and scabs on the skin

Redness and itchy skin- inflamed areas often indicate sensitivity, especially around paws, legs, and bellies.

Scratching- itching, scratching, and biting is a sign of skin infections.
If you notice any of these symptoms in your pet, consult a vet immediately. He will diagnose the cause and then prescribe special shampoos according to sensitivity.
How to Avoid Irritating Your Pet's Sensitive Skin 
By following a few tips, you will be able to take care of your cat and dog's sensitive skin:
Water should not be warmer than their body temperature. Always use lukewarm water before bathing them, and test it on your wrist first.

Don't bathe them frequently. Once every 2 or 3 months would be beneficial for them. Excessive bathing can strip off natural oils from the body.

Avoid the use of medication unless it is very necessary, as medicines cause skin irritations.

Massage shampoo and conditioner into their fur and thoroughly rinse it so that it does not irritate the skin.

To avoid food

allergies

, switch to a sensitive skin diet.

If they have any breathing allergies, keep them away from pollens, mold, and fiber.

Brush them regularly to get rid of hair loss, and it will distribute their natural oils.
With some gentle care, you can keep your pet's skin less irritated and comfortable.
Below, we will discuss the best shampoos for cats and dogs that possess sensitive skin.
3 Best Dog Shampoos For Sensitive Skin
Dogs are not conscious about their grooming. They rely on their owner for their hygiene. Dogs need to be bathed and brushed with the best dog shampoo, which will help them stay healthy and clean and will prevent them from skin infections and other health problems.
Vegan Detox Shampoo
For those who believe in vegan products for their dogs with sensitive skin, detox shampoo is the best choice. This is an enriched formula for a gentle cleanser that hydrates their skin during bath time. It clarifies all dirt and oils.
Formula contains:
It is formulated with:
Acai Extract
Acai extracts provide nourishment to dull and dry coats with their antioxidant properties. It is found in the Amazon rainforest with an intense purple color, naturally formulated with vitamins B1, B2, B3, C, and E to strengthen pets' coats from root to tip.
Ginger extract
Ginger extract is known for its soothing properties. It gently cleanses and gives a lustrous shine to the coats. It also helps in the stimulation of hair follicles, which promotes thicker hairs.
We love it because it gives the smoothest coat ever and helps in fast coat drying, and it is the best dog shampoo.
Vegan Milk Neutral silk Shampoo
Soothing irritated skin is much easier than you think if you use the right products. This neutral silk Shampoo is the right choice. It gives a calming effect to the damaged skin.
Composition:
Vegan milk neutral silk mask contains:
Quinoa Amino Acid
Quinoa amino acid helps strengthen the coat by replacing the lost protein mass and reducing the damage. It provides elasticity and resilience to the coat.
Coconut Milk
It is an active ingredient that soothes, softens, and moisturizes the coat. It gives a high level of conditioning, which nourishes dry and patchy skin. The best part of this is that it gives a coconut smell to the dog's skin, resulting in your pet smelling good and giving a better look.
Vegan Puppies & Sensitive Skin Shampoo
Vegan detox shampoo is an excellent vegan product for cats with sensitive skin. It is enriched with plant-based extracts, which help in gentle cleaning and hydrating their skin.
This formula consists of:
Panthenol
Panthenol constitutes vitamin B5 and vitamin E, which lubricate each coat from deep roots and give a shiny, healthier look outside.
Coconut Oil
Coconut oil is the key ingredient when it comes to conditioning. It can also be used as a topical solution. It moisturizes the dog's skin and helps to reduce flaking and itchy skin.
Cupuaçu & Murumuru Amazon Butter.
It is known as a super moisturizer because of its hydrophilic properties. It locks water inside, restores skin elasticity, and provides hydration and freshness to the skin
Scent
They possess a fragrance-free policy. They offer a refreshing fragrance that will leave your pet smelling clean and nice. Vegan milk shampoo does not have any specific odor but will give a mild fragrance to your pet. It will nourish your pet's coat and make its fur super soft.
Safe to Use
These vegan products by DOWG Essentials are safe to use for all kinds of breeds. These are specially designed for domestic pets. It does not contain any product which causes any allergic reaction or other illness.
Their cat and dog shampoo is best for those pets who have sensitive skin, itchy and dry skin, and flaky skin.
How Can These Shampoos Help Sensitive Skin?
Shampoos that are formulated for the sensitive skin of cats and dogs are much gentler than other shampoos. Below are a few benefits that pets get from them.
They don't contain any irritants like fragrance, alcohol, or other chemicals that may harm the pet's skin.

Most of them are made up of some soothing agents like coconut oil, shea butter, oatmeal, aloe vera,

These shampoos gently cleanse their body without stripping of excessive body oils.

Most of them contain moisturizers, which keep the coat soft, smooth, and hydrated.

To support the skin moisture barrier, some include vitamins and nutrients.

They maintain the pH of the pet's skin and avoid disrupting the skin's acid mantle.
While bathing your dog or cat, just be sure to choose a product designed specifically for pets, not human shampoo, which may contain inappropriate ingredients.
Tips for Bathing Your Pet with Sensitive Skin
To ensure a gentle and soothing bath time, follow the following tips.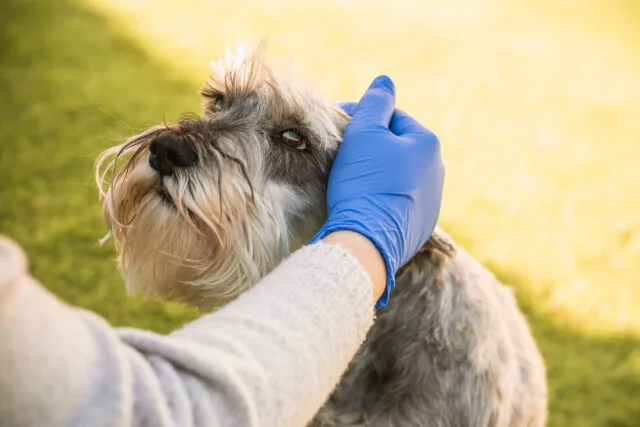 Before bathing, make sure to brush them regularly to shed dead hairs.

Wet their coat by filling the tub with lukewarm water.

Use a washcloth if needed. Avoid getting shampoo directly into their eyes, ears, and nose.

Rinse their body thoroughly so that any residue may not irritate their skin.

Use a blow dryer on a low setting for drying purposes or use an absorbing towel.

Moisturise their body after washing to lock the moisture inside the skin and spray cologne for a nice smell. 
With the proper shampoo and bathing approach, you can get your sensitive pet clean without causing any skin irritation or rash. Pay attention to their skin's signals and adjust your bathing routine as needed. 
Conclusion

 
Caring for a pet with sensitive skin requires attentive grooming using appropriate shampoos and bathing techniques. By doing so, one can keep their dog/cat allergic-free, healthy, and can get rid of their extra hairs. Gentle care can also bring natural oils to the surface and keep a body nourished.
The DOWG Essentials shampoos are the best shampoos for your pet's effective cleaning. Today, People go for more vegan things for gentle care, so if you want to explore more vegan options for your pets, you can visit their website. They have a huge variety of the best shampoos for cats and dogs. Every shampoo is made for their specific needs, use it, and you will feel the novelty. Their chemicals are free from animal derivatives, and it's an effective choice for vegan lover pet owners.
Furthermore, they have a pocket-friendly price range. Its best quality with the economical price makes it a premier choice. By selecting vegan shampoos for cats and dogs, pet owners will be convinced that they made the right choice.
Pay attention to your pet's signals, invest in a high-quality sensitive shampoo, and help keep their skin and coat healthy. Your furry friend will feel refreshed, and their sensitive skin will thank you.