Best Dry Shampoo For Dogs
How would you feel if you used dry shampoo in the wintery morning or when running short of time? Keeping this feeling as a dog parent, imagine how your little friend would feel about using dry shampoo.
Will you prefer not to give a bath when little Scout is recovering from some disease or when you cannot wet him, as we discussed in one of our previous articles?
Would you like to see your baby scout untidy and exposed to bacterial attacks that can cause him severe skin disease? Not. That is why Dry Shampoo is here to solve the problem.
If you want to know more about dry shampoo, read the article to get all the know-how about dry shampoo.
What is Dog Dry Shampoo?
No water, But Still the best when it comes to cleaning. Yes, a dog dry shampoo is a waterless dog shampoo that helps clean the dirt, excess oil, or debris from the dog's body, coat, and skin. In short, it is the alternative to regular shampoo that requires water to clean.
Well, the working of dry shampoo is simple. The spray binds to the oil and debris on the dog's skin, making it easy to brush out. You will find this dry shampoo absorbing all the dirt on the dog's coat without irritating your dog.
Even though dry shampoo has many advantages, this doesn't mean you should say goodbye to the usual shampoo used. Not at all. Dry Shampoo is your go-to option to keep your dog tidy, clean, and fresh in an emergency or when healing from any disease.
Benefits of Dry Shampoo:
Dry Shampoo brings you a lot of benefits. The list goes as follows:
It is the best way to make your dog look clean and fresh, even if you don't go for the proper bath that day.
Easy to use.
It is best for dogs who are victims of allergies and sensitivities.
Dry shampoo can help reduce shedding
It can be a travel companion for your dog's cleanliness.
Long story short, Dry Shampoo is best for dogs who have sensitive skin. But before using it, test it on a small portion of your dog's skin to see if it reacts. Many dog owners have a problem that their dog sheds often, so don't worry; you can rely on dry shampoo. The spray binds to the loose hair, making it easy to brush out. Plus, it would be difficult for you to bathe a flurry partner when you are traveling, camping, etc., so dry shampoo can be the refuge for this; you can trust it with the cleanliness of little Scout.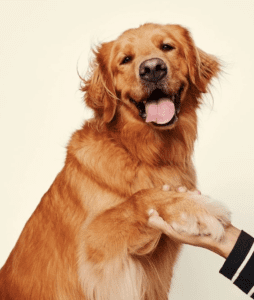 Uses Of Dog Dry Shampoo
As much as Dog dry shampoo is beneficial, as vast is its usage list. From helping your dog eliminate stinky smells to using it to help them heal from surgery and infection. Here's how you can bring Dog Dry Shampoo into use:
Tired of that stinky smell or strong odor coming from your dog, and it is so irritating that you can't stay with him for longer than a few seconds? Dry Dog Shampoo can help remove that odor and give a fresh and catchy scent.
Are you the one who can't let the dog stay without a bath for long? What if you are away from home and can't find any facilities to bathe it? Dry shampoo can be of help.
If Your Dog Has Itchy Skin
Dry shampoo for dry skin. If your dog has that itching feeling or dry skin, use dry dog shampoo, as it will relieve your little furry friend.
If Your Dog Is Healing From Surgery or Infection
To give a soothing effect to little Scout when he is going through severe pain and is unable to enjoy his life, you can use dry dog shampoo to make this healing process smoother for him.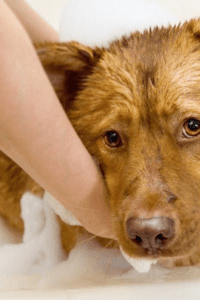 How To Use Dry Shampoo?
Well, you must have seen me talking about spray in dry shampoo. That does not mean all dry shampoo are sprays only. Some come in foam, and some in powder form. The word "Dry" refers to a waterless companion. With the apparent exception of not needing to rinse, these solutions are not significantly more straightforward than traditional shampoos. Additionally, you usually still need to towel-dry the dog or comb their hair if you want to use a powder dry shampoo.
Are you looking to buy dry shampoo?
Now that you know the importance of aur use of dry shampoo, are you willing to be a good pet parent and buy a dry shampoo for it? If Yes, fret not. Here's a list of top-notch dry shampoos that promise your dog will enjoy bathing like he loves playing football with you.
Rest assured, your pet will love it; let's go.
Choosing the most convenient option to keep your little furry friend fresh, clean, and away from that stinky smell; Vegan Dry Bath Spray Soft is the favorite choice of most pet parents. Only those one-month-old meows and scouts can enjoy their bath time with this Dry Bath Spray. We usually don't prefer giving regular baths every day to these little brats, but maintaining cleanliness is essential, and that's where vegan dry bath spray soft comes in.
Let's see what distinguishes Vegan Dry Bath Spray Soft from others:
Waterless Cleaning: This dry bath spray lets you clean your furry friend without getting wet. Like most of us, some dogs also hate taking baths every day; why force them to get washed when they can without water touching them? Exciting? Tell this to your little Scout and see how he jumps around you out of happiness.
Active Odor Neutralizer: Get rid of that stinky smell that some infection or any other reason may cause. If your dog smells bad, let this dry bath spray help you neutralize it, leaving a refreshing experience for both you aur your dog.
III. Panthenol For Shine: Panthenol, also called provitamin B5, is used in Vegan Dry Bath Spray as a conditioning element. With this Dry Bath Spray, your pet gets a shine and smoothness in his skin coat, making it silky and smooth.
Facilitates Brushing: Besides keeping your dog odor-free and giving it smoothness and skin, vegan dry bath spray makes brushing much more manageable and relaxing. It smoothens the hair and reduces the risk of hair being tangled.
Now, Let's see how you can use it to get better results:
Topical Use: Vegan dry bath spray soft is specifically used solely for topical use. Beware not to inhale or apply it on specific areas like eyes, mucous membranes, or ears. Little Scout must have his one-month birthday to enjoy a dry bath.
How to Apply? Start by spraying it all over your pet's body. Spread it generously with your hand, so you miss no area. Massage it into its hair, giving it a relaxing feel. But please only apply a little. Little is enough, as it goes a long way.
Finishing: Once you are done spreading the spray perfectly, take a brush and smoothly brush the hair of the dog and see how he sleeps in your lap.
Pet owners who wish to keep their furry friends clean, fresh, and odor-free without giving them typical water-based baths may do so with great effectiveness and convenience because of the Vegan Dry Bath Spray Intense. This product, which is meant for dogs and cats four weeks of age and above, is ideal for use between regular bathing to keep your pet's coat clean, healthy, and free of odors.
Let's see what sets Vegan Dry Bath Spray intense apart from the competition:
Waterless Cleaning: This dry bath spray lets you clean your pet without wetting it. Certain dogs, like the majority of us, detest bathing every day; there's no reason to make them do it when they can get by without any water on them. Thrilling? Tell your little Scout this, and see how happy he gets, jumping all over you.
Stimulating Odour Removal: Eliminate the foul odor that could result from an infection or any other cause. Let this dry bath spray help you neutralize your dog's offensive odor so that you and your dog may have a pleasant experience.
III. Panthenol For Shine: A conditioning ingredient in Vegan Dry Bath Spray is provitamin B5. This Dry Bath Spray gives your pet's skin and coat a glossy, smooth finish that feels soft.
Facilitates Brushing: Vegan dry bath spray intense leaves your dog's coat smooth and odor-free, making brushing more manageable and enjoyable. It lessens the chance of hair tangling and smoothes the hair.
Let's now examine how you might apply it to improve your outcomes:
Topical Use: Vegan dry bath spray intense is only for external application. Take care not to apply it to sensitive regions like the eyes, mucous membranes, or ears or to breathe it in. To enjoy a dry bath, Little Scout must turn one month old.
How Can I Apply? Start by dousing your pet's body with it. Using your hands, evenly distribute it so that no space is missed. Please give it a soothing massage to make it feel more at ease. But kindly only apply occasionally. Since it goes a long way, little is sufficient.
Final step: After evenly applying the spray, use a brush to gently comb the dog's hair and observe how he sleeps on your lap.
Final words:
To sum up, dry shampoo for dogs is a valuable and effective option for pet owners who want to keep their pets comfortable and clean. It's a great complement to any pet grooming routine because of its waterless cleaning qualities and versatility in providing convenience. Dry shampoo is a handy tool for keeping pets clean and fresh since it may help with everything from odor removal to wound healing. Pet owners now have dependable solutions that address the unique demands of their pets.
You can choose one from the suggested goods like "Vegan Dry Bath Spray Intense" and "Vegan Dry Bath Spray Soft." This article emphasizes how crucial dry shampoo is to keeping our cherished dogs clean, cozy, and content even when regular baths aren't possible. So make a wise decision for your pet today!