Grooming routine for different dog breeds
Are you restraining yourself from adopting an adorable dog only because you don't know the grooming routine!! If that's the case, DOWG ESSENTIAL  is at your service.
DOWG ESSENTIAL brings you a comprehensive guide to "How to manage grooming routines for different dog breeds". In this article, we will tell you simple and easy tips for managing the grooming routine of your best buddy dog.
Dog grooming routine
Grooming is a part of everyone's daily life. First, observe your routine, then simply apply that to your dog as well. You must be wondering how! Let us explain. We all take baths, cut our nails, and brush our hair. The same, we have to do with our dogs. A little difference here is, finding out the breed-specific tasks of your dog. In other words, find out what works best for your dog.
Mostly it is limited to bathing only. Well! our lovely readers, that is not the case. A grooming routine means taking care of your pet from head to toe in a regular manner. Grooming is taking care of your dog's fur, paws, ears, teeth, health and hygiene. Grooming is the process where the pet and owner or I should say the buddy's bond gets strong.
Dogs are humans' best friends, aren't they? Taking care of your best friend is an important task but you can make it easy and fun.
Importance of grooming your dog
If you go to a pet groomer, you have to pay a heavy amount, sometimes it is necessary. Contrarily, if you take care of your pets by doing a little research about the breed-specific needs of your dog, you can save a big amount along with strengthening your bond with your buddy. Let me show you a very simple step-wise guide to a grooming routine 
Now let's delve into the depth of these simple steps so that our readers, can take the best care of their dogs after reading this article.
For our lovely readers, we have broadly classified the grooming routine into categories
When it comes to grooming routine, the first thing is to maintain regular bathing and taking care of their fur. Now by regular, we do not mean that you have to give a bath to your dog DAILY. By regular we mean, deciding a day in a week or month or whenever you want but then sticking to that routine.
There are different bathing needs of each dog breed. You have to stick to a routine that does not only suit you but is also in accordance with the needs of your buddy pet. 
 For example
If you have a dog breed that has long and matted hairs, you may bathe them in a month. On the other hand, dogs with low-maintenance coats and small fur need to bathe every two to three months.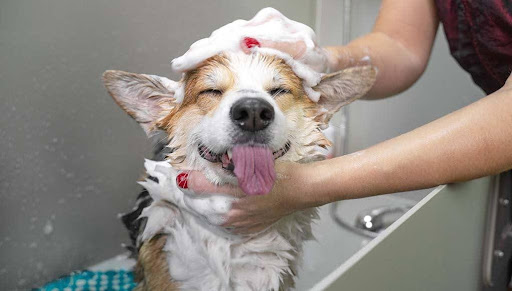 Attention Please
Our lovely readers and pet parents, caution is very important while bathing your pet. DO NOT use any human shampoo at all. Dogs have different body pH than humans. So, if you use a human shampoo it may damage your pet's fur.
DOWG ESSENTIALS provides you with a wide range of shampoos and conditioners at affordable prices. Select one that works best for them 
DOWG Essential Vegan Shampoo's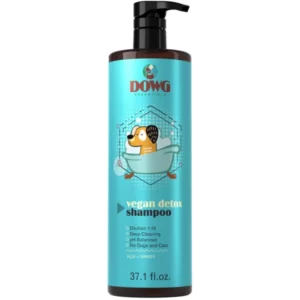 Our specialty is to keep everything as vegan as possible. All our products are vegan and formulated with the thought of providing maximum effect with vegan ingredients.
Bathing is an important part of grooming routine. If you don't have much time for a water bath, you can use dry bathing spray. This way you will not miss the routine, save time and most of all your dog will be cleaned. Once again DOWG ESSENTIAL is your best option. We bring you a fabulous product for dry bathing. We have a variety of dry bathing sprays. Select the one that suits your dog the most.  
DOWG Essentials Dry Bath Shampoo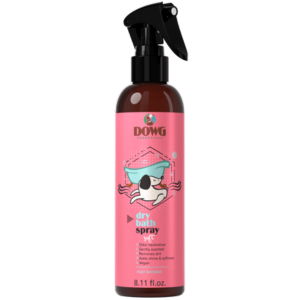 The second but an essential step of dog grooming routine is Brushing. Grooming your pet with a brush makes your pet look beautiful and neat. Brushing will keep your dog's fur clean and free from dirt, tangles, irritants, and fleas. 
Moreover, brushing will spread the natural skin oils all over the fur maintaining a natural shine and texture.  Apart from its benefits grooming with a brush is something your pet will love. It's like spending quality time together and fostering healthier relationships.
Trimming hairs and nails is a part of every living beings grooming routine. So is the case with dogs. Grooming is a process that involves all parts of the body. Hairs and nails are also to be taken care of, to make your dog look neat and healthy. 
For nails, the trimming time is when you can hear the tapping of the feet on the floor when your dog walks. Long nails make sounds, so it is the time your pet needs nail trimming.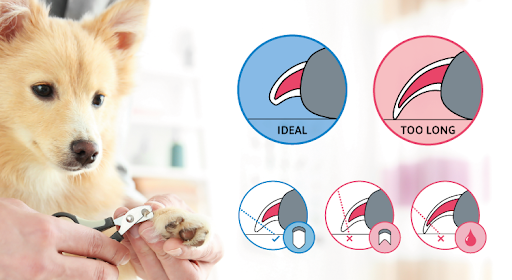 For trimming your dog's nails, make your dog sit in a comfortable and friendly environment. Calm him/her. Once your pet is calm, grab the paw, clean it of dust and dirt, and start cutting the nails with the help of a dog nail cutter.
For hairs, every dog has different trimming needs. If you have a long-haired breed, you need to read a guide or watch a video on trimming hair. Specifically, around the eyes and ears. In most cases, it is recommended to restrain yourself from cutting your dog's hair if you are not fully trained for it. You should take your pet to a pet groomer so your pet not only looks best but also stays safe and clean. 
Maintaining a regular hair grooming routine is necessary, particularly for long and heavy fur-coated dogs to keep them neat and free from parasites, fleas, and lice.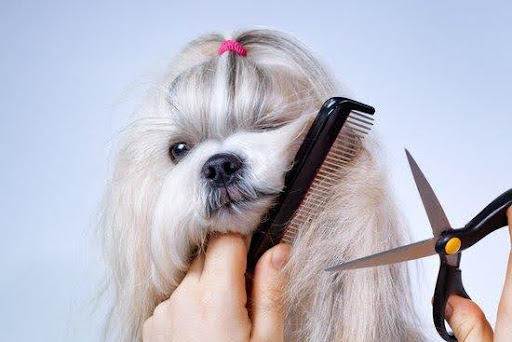 While the short-haired or low fur coated breeds do not require as frequent cuttings or trimming as the long or heavy-fur-coated dogs. Only brushing is sufficient for them for a long time.
Till now we have discussed hygiene and bodily grooming routine tasks. Another important aspect of the physical grooming routine is taking your dog out for walks and planning activities for them.  
We know time is a precious commodity nowadays. We have to maintain a grooming routine so for that, everything needs to be done regularly. So, let's decide the time you can spare for your pet. If you cannot manage to take your dog for a walk daily, then try doing this twice or thrice a week.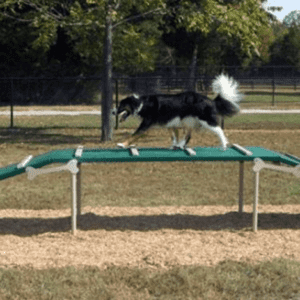 Take your dog regularly for a walk on weekends. 

Dogs love to play with a ball or a Frisbee, play with them.

You can plan some obstacle jumping for your dog at home with many different stuff stacked. 

Or you can take your dog outside to any park with the dog training facilities.

You can have a run with your pet.
Benefits
Your dog will stay fit and healthy. Moreover, the bond of trust and love will strengthen between you and your buddy pet. Apart from this, a healthy pet can fight infections better.
So the chances to visit a vet will be decreased. Your pet will have better immunity because of these healthy activities. Running with your pet will benefit you as well. You will also get in shape. 
Dog grooming services/Treatments
In the grooming routine, an important need to be taken care of is the vaccination of your dog. Make it your habit to check the vaccination status of your dog. If any vaccine is due, try to make sure to do it at the recommended time. It will not only keep your pet safe but also you and other family members too will remain safe from any viral or bacterial illness.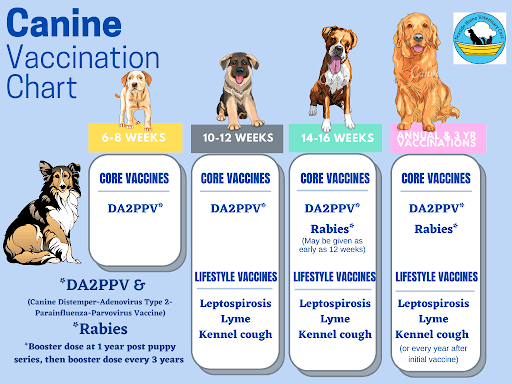 Cleaning eyes and ears is as important as the other parts of the body in the grooming routine. You can clean the eyes of your pet with a wet cotton bud or a pad.
Checking and keeping your pet's ear clean is of immense importance to avoid any infection. From time to time check your dog's ear for unusual discharge, smell, or if your dog is scratching his head. In that case, immediately consult a vet to relieve your pet from the pain.
DOWG ESSENTIAL has taken care of this immense need, as it provides the best vegan ear solution at a very affordable price, for the cleaning of your dog's ears.
DOWG Essentials Ear Cleaning Solution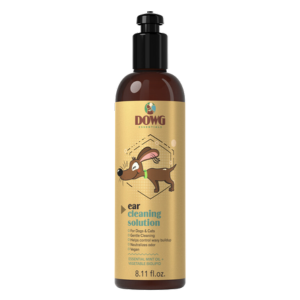 While brushing or before bathing, notice the skin or fur of your dog for any wounds, infections, or fleas. So, that you can detect early if there is any. You can simply do this by running your fingers through your dog's fur/coat and looking for unusual appearances like bumps or clumps or any other sort of aforementioned thing. Even other than the grooming routine you should pass your fingers through your dog's hair more frequently. Dogs love this kind of affection.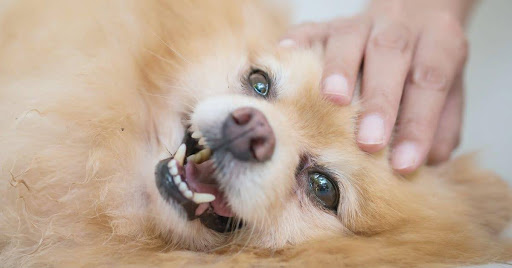 Dogs health is immensely dependent on the oral health of the dog. Grooming routine also includes brushing your dog's teeth with special dog toothpaste and dog teeth brush. If your dog doesn't like the brushing, you can use paste on your fingers, or even wipes can also be used for cleaning the teeth.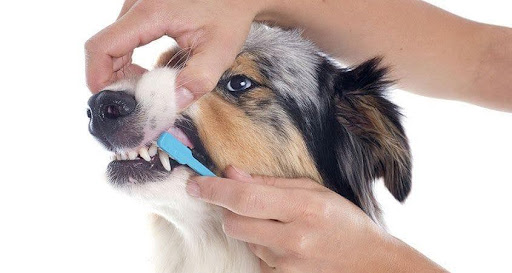 The last but necessary step of grooming routine is to pour a little bit of cologne on your dog. By using cologne, you can get rid of the skunk and the smell. DOWG ESSENTIALS has got some perfect colognes for your dog. Once you try them, you and your pet will surely love them. It's a kind of treat for your dog for behaving well throughout the grooming routine step.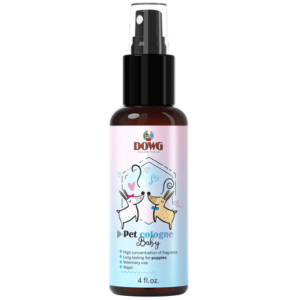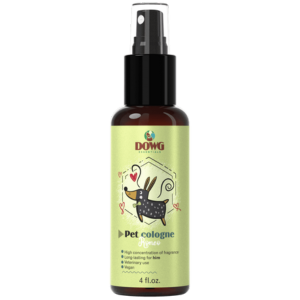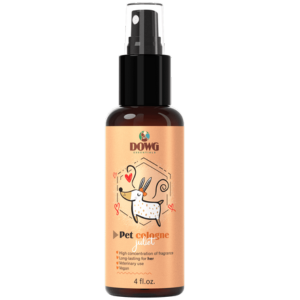 Dog grooming services
Even with this digitalized and equipped world, we are mostly running out of time for our errands. Grooming routine and taking care of your pet might sometimes make you feel like a burden or responsibility that you are struggling to balance. 
In that case, search for any grooming spot nearest to your home. Take your pet to the area and provide him with all the routine services from professionals. 
Yes, I know, it can be a bit expensive but so is to take care of your beloved buddy pet. Don't hesitate to do this. Health is wealth. If your buddy dog feels good, healthy, and clean, you will automatically be happy in return.
A humble note:
Grooming your dog is a wonderful time for both the parent and the pet. Our dear readers and pet parents, try to make the grooming routine fun. Don't think of it as a chore or responsibility, think of it as your bonding time. Like humans, dogs need attention too. So this is your time to connect with your pet and do the things you both enjoy the most. After finishing the grooming routine steps, give your dog lots of dog treats for their cooperation and patience throughout this process. 
A quick Review
Grooming your pet is as important for your pet as it is for yourself. It is not at all difficult. You have to take out few minutes from your day to do the grooming. The most important thing is to maintain the grooming routine. If you cannot manage something on the decided day, then try to do it as soon as possible. Or they will feel ignored.
So here is a quick review of what you read in this article. 
Brushing your dog's hair regularly will nurture your bond with the pet as well as prevent the tangling and matting of hairs.

Bathing your pet will help him clean of dust and dirt.

Trimming hairs and nails should be handled with care and caution.

Taking your dog for walks and other outdoor activities is necessary for their physical fitness.

Vaccination and checkups must be done on time to avoid any health problems.

If you are not able to manage the time due to any commitment, then make sure to take your pet to a pet grooming service center for this.

Don't forget to spray cologne on your pet to end the overall process in a nice and fresh manner.
Let us know in the comment section, what you want to know more about grooming the dog. We hope this article was helpful to you.