Is Vegan Shampoo Good For Cats?
Despite cats being the tidiest and cleanest animals, their hygiene is still the top priority of pet parents. Like ours, pet parents spend countless hours surfing the internet and visiting veterinarians and vet stores to find what vegan shampoo makes their little meow glow and shine differently. This concern is genuine. A cat cannot keep itself that clean that a vegan shampoo can. Bacteria and yeast may reside in their furry skin, and this can be exhausting and time-consuming to get rid of. So why not go for prevention before the sand slips out of hand?
So, if you are that curious pet parent tired of going everywhere searching for the best vegan shampoo, then STOP! This Blog is for you…
Why Ethical Pet Grooming Products Are Trending?

If you are an avid researcher, then you must know the recent research for the years 2015-2025 on how pet parenting culture is at its peak. People love to adopt and pet animals.
For a second, imagine how our parents go through every minor detail of every product they use for us, so why won't pet parents do so? But as the demand for pets increases, pet grooming products also grow.
This research provides you with valuable insights into the pet grooming products market. – as to how things are evolving like never before. The reason for the rise is the awareness that pet owners gain. These pet grooming products play a significant role in enhancing the external body health of the cat.
The increase in the number of diseases in animals due to poor hygiene has made pet owners mindful as to how they will take care of their pets and make sure they are living in the best environment that is both healthy and hygienic rather than seeing them suffer through ah that itchy skin and those silent cries.
These situations have created an awareness that has drastically shifted the minds of pet parents toward two things
healthy diet
Better hygiene
And here we are going to top the " Most Important" thing HYGIENE
Once you know the importance of hygiene in your baby Meow's life, you immediately search for products. Two types of products exist in the market:
Due to the side effects that come with non-vegan products, the prime focus of pet parents is wholly designed with the well-being and health of these little furry meows and scouts.
This switching of pet parents' choice from non-vegan to vegan, unethical to ethical products is in itself a whole evidence of responsible options for these furry companions.
The more they are aware, the better health their little friend will enjoy.
Vegan Shampoo For Cats.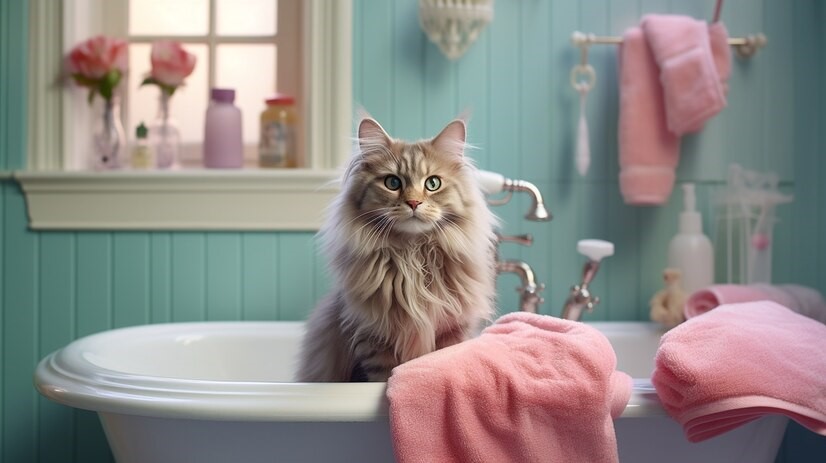 As awareness increases, this 21st century has proved that vegan products are not only the best choice for us humans but are also the best choice for our best companions, so it's essential to keep an eye on all the products that are trending for pet grooming products.
Unfortunately, not every grooming product you will find will be the best for the pet – similarly, not every vegan product is 100% authentic and genuine. Harsh but True! These fake vegan products include toxic chemicals that may destroy your pet's skin and well-being – may it be a cat or dog.
If you are a cat owner looking for the best shampoo that can work best in fulfilling all pet grooming needs, then choosing the high-quality vegan shampoo is what you should look for. Vegan cat shampoos are specifically created with safety and practical cleaning experience in mind. The production ensures that it doesn't affect your cat's skin health.
Ever heard: "Before you leap, take heed, and read what others say, for in the wisdom of reviews, you find your way." So, whenever choosing a vegan shampoo for your cat, head to the review section and the veterinarian to see what he recommends.
Little Meow deserves a lot of care, and choosing the perfect vegan shampoo is the first step towards love and loyalty for your cat, so let's raise a toast for providing Little Meow with a healthy and happy lifestyle.
What Is a Vegan Shampoo?
So, the shampoos that are derived from natural ingredients extracted from herbs and plants from the part of the community, vegan shampoo. The production of these shampoos doesn't include any element derived from animals, e.g., fats, beeswax, etc., as these do not align with beauty standards and healthy scale.
Their absence is what sets vegan shampoo apart and makes it a perfect option for those looking for products that are eco-conscious and health-focused. Being formulated from all-natural sources, vegan shampoo brings no side effects and is a healthier choice for humans and animals.
This vegan shampoo works best in supporting the health of your pet's skin. Above all, it's a beautiful linkage between ethics, beauty, and nature.
Vegan Cat Shampoo Benefits.
The role of vegan shampoo for cats can prove beneficial in the following aspects.
Vegan shampoos are allergy-friendly. The aim is to reduce the risk of provoking allergies and sensitivities in pets, making them safer.
They are mildly moisturizing. These cat shampoos keep the skin hydrated and wet, so there is no need for any other lotion or moisturizer after a bath.
Vegan cat shampoos are genuine cleansers, softeners, and conditioners for your lovely cat. The essential oils, aloe vera, shea butter, and plant extracts included in the formulation of these cat shampoos serve as a bonus in grooming your pet carefreely.
Vegan cat shampoos are cruelty-free as they are free from any animal protein. Moreover, these are not tested on animals, so that is ethical for those who have concerns regarding vegan products.
How to Choose a Vegan Shampoo for Cats?
Everybody loves his pet and looks for the best for it. If you are a cat owner and have read this article, let me help you choose the best Vegan Shampoo for your feline companion. You know your cat very well, and you know the things suitable for it. Vegan shampoos don't have side effects, fur irritants, and many other problems that may harm the pet. So you can choose wisely.
But WAIT! Before you grab a bottle, carefully read the ingredients indicated on the label if you're contemplating doing so. By taking this step, you can make sure that using vegan shampoo for your cat is not only worthwhile but also quite impressive.
Furthermore, before giving your pet any new medication, you must briefly talk with their veterinarian or doctor. By taking this step, you can be sure that the product will meet your cat's specific needs and keep your pet healthy!
Best Vegan Shampoo for Cats.
You're now prepared to choose the ideal vegan shampoo for your four-legged friend, dispelling some common myths regarding vegan pet supplies. You don't need to embark on a never-ending search because I have a fantastic collection.
Visit our website at https://dowgessentials.com/ to browse our wide selection of pet supplies. There's an abundance of choices available to you, including several excellent vegan shampoos explicitly made with your cat in mind. We have everything you need at your virtual doorway, whether for pampering or grooming.
Here's the skinny on everything we have in store for you and your feline friend, without further ado.
1.   Vegan Milk Neutral Silk Shampoo.
DOWG Essentials Vegan Milk Neutral Silk is a carefully crafted formula enriched with Quinoa amino acids, designed to provide your pet with the ultimate coat care. These amino acids are crucial in preventing further damage to your pet's fur, ensuring its health and longevity.
What sets this product apart is the inclusion of nourishing coconut milk, which adds an extra layer of moisturization. When applied during bath time, it cleans and profoundly hydrates your pet's coat, leaving it irresistibly soft and delightful to the touch.
One of the significant advantages of this product is its versatility. It's suitable for all types of coats, and you can quickly dilute it at a ratio of 1:10, making it a cost-effective and long-lasting solution for your pet's grooming needs.
Furthermore, this pet-friendly formula is safe for cats and dogs aged four weeks or older. With DOWG Essentials Vegan Milk Neutral Silk, you can trust that you're providing your furry friend with top-quality care to keep their coat in perfect condition.
https://dowgessentials.com/product/vegan-milk-neutral-silk-shampoo/
2.   Vegan Puppies and Sensitive Skin Shampoo.
To facilitate the restoration of your pet's skin microflora, our Vegan Puppies and Sensitive Skin Shampoo is specially formulated. It incorporates active Prebiotics and Panthenol, which work harmoniously to maintain your pet's skin in optimal hydration and smoothness.
What sets this product apart is its commitment to pet well-being. It is entirely free of parabens, gluten, and paraffin, ensuring a gentle and soothing experience from the first use. This means your pets can enjoy the benefits of calm and balanced skin, thanks to the mindful selection of ingredients.
With the Vegan Puppies and Sensitive Skin Shampoo, you can have peace of mind knowing you're providing your beloved pets with a product that cleanses and nurtures their skin, fostering a healthy and happy life.
https://dowgessentials.com/product/vegan-puppies-sensitive-skin-shampoo/
3. Vegan Detox Shampoo.
We are introducing our remarkable Vegan Detox Shampoo, a product consistently earning 100% customer satisfaction.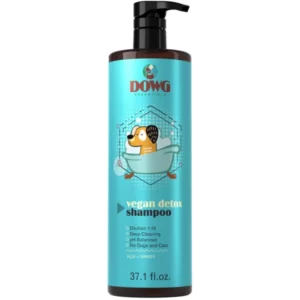 For those seeking a deep cleansing experience and the added benefit of antioxidants, this detox shampoo is nothing short of a miracle. It's expertly formulated to effectively remove excess dirt and oil from your pet's coat while providing a soothing and revitalizing effect on the skin.
The Vegan Detox Shampoo isn't just a cleanser; it's a holistic solution to enhance your pet's well-being. It's designed to promote a healthy, balanced, and refreshed coat. With this shampoo, you can trust that you're offering your pets a truly exceptional grooming experience backed by the trust of countless satisfied customers.
https://dowgessentials.com/product/shampoo-vegan-detox/
How To Safely Give Your Cat a Vegan Shampoo Bath?
Not a big deal.
If you have a baby at home, you are already familiar with the bathing process for your cat. Here are some tips to consider when planning a vegan shampoo bath.
Keep the bathtub or area mess-free so that there are only required items in your reach, and you don't have to find any bathing supplies during the bath.
Pour warm water on your cat; make sure it's all wet.
Take a small amount of cat shampoo on your palm and dilute it with water.
Apply on the animal's body and rub gently; use a scrubber to clean the paws.
Don't rub the shampoo near the eyes, ears and face. Soon, it will be all foamy.
Now pour water through a shower spray smoothly so that all the shampoo comes out. This time, you must care for the nose, eyes, and mouth, too.
After thoroughly rinsing your cat, apply a towel and dry it. A hairdryer can be used to get the best results. If you use a brush through its fur, it will feel good.
Watch your cat enjoying it. Thank you.
Conclusion
The saying, "Life is a sum of your choices," underscores the profound impact of our decisions on who we become. Your choices define your character, and this principle extends to how you care for your loved ones, including your cherished pets.
In the realm of pet care, there's no room for compromise. Now is the perfect moment to proactively address any pet-related concerns. By choosing one of these three exceptional vegan shampoos for your feline friend, you're making a conscientious choice to enhance their well-being and bid farewell to pet-related issues.
With these high-quality shampoos, you're not only choosing superior care but also embracing a commitment to the happiness and health of your beloved kitty. Your future self and furry companion will be grateful for this thoughtful decision.