Pet Grooming Products
Pet grooming is a health activity that is essential for the well-being of pets. Most animals need some level of grooming that includes hygiene care such as brushing, grooming, bathing, ear cleaning, and paw trimming. Pet grooming products regularly allow you to identify diseases or ailments at an early stage, which means they can be treated quickly and effectively, making them less likely to have long-term effects on your pet.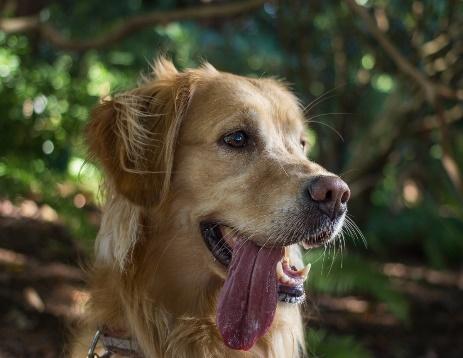 If you groom your pet regularly, this can have a positive effect on its health. It is a great pleasure to have a pet that smells good and is beautiful. The positive support your pet receives from people can affect his emotional state, which can improve his behavior. Taking care of animals is also important for the whole family. You don't want your dirty pet bouncing on your sofa or clean bedsheets. 
With the right pet grooming, you will be able to eliminate insects, fleas, ticks, and all kinds of health problems. Caring is more than just having a cute pet. Even if your dog doesn't seem ready, pet grooming can provide many health benefits that aren't immediately available, but with the passage of time, it adds great value. 
Pet grooming your dog or cat aerates its coat, helps it grow healthy and strong, and removes old and damaged hair. Pet grooming also allows your dog's skin to breathe and reduces the oil in his coat. Excess oil can clog pores, causing irritation and many other skin problems. Brush their hair so they can get a good massage and improve blood health. Petsmart grooming is a time to bond, and the more you do it, the more your pet gets used to it. It should be comforting and restful for both of you. It's best for dog grooming from an early age because this is when they can bond and choose what they like or dislike. So now is the time you can give your cat or dog a good pet grooming session by using our 100 % vegan products at a very affordable price.
Why DOWG Essentials?
At DOWG Essentials, we love animals, and we do believe for a healthy pet, you need to groom your pet on a regular basis. For that, we make sure that all the products we manufacture bring great satisfaction to our clients. We deal in a wide range of vegan products for pet grooming. After a wide research, premium quality ingredients have been used to avoid any harm. These Vegan products can be used on sensitive skin as well. We ensure that the dog grooming and cat grooming products do not cause any harm to the pets, and you can find the perfect grooming product for your pup's coat, according to their skin and fur type. We are committed to using vegan products to meet the hygiene, care, and maintenance needs of all animals. Keep reading and spot the perfect vegan, cruelty-free pet grooming product for your furry companion!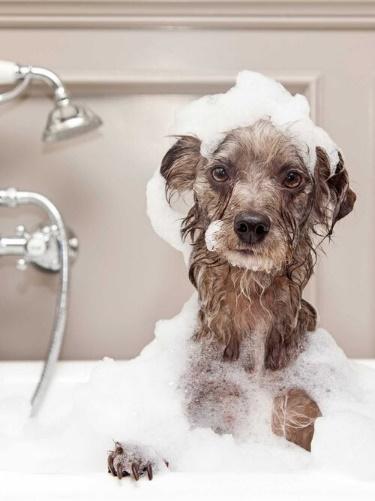 Our Top Vegan Products
If you want to maintain your dog's health and style, it's wise to stock your home with a few essential items. Ensure your dog is relaxed at all times. Discover our best vegan Shampoo for all different breeds of dogs and cats. We take care that our pet grooming products do not harm our animal friends. Find the best vegan Shampoo suitable to their coat and fur at a very low price. We have the best vegan Shampoo for your furry pet cat and dog. We have been working on using Vegan shampoo to meet the unique hygiene, care, and grooming needs of all pet animals. COMPREHENSIVE RESEARCH – HIGH-LEVEL INGREDIENTS – Research and collaboration enhance the benefits of vegan ingredients that translate into the unique ingredients of our product. All of our dog washes are vegan, pH balanced, and suitable for dogs and cats of all breeds and coats 4 weeks of age and older. It has a mild fragrance foams, and cleans very well. It also rinses very easily. We do have different categories of vegan Shampoo. You can choose according to your choice. We have separate Shampoo for pets with sensitive skin. These lovely shampoos made by the DOWG Essentials Detox are a line for all types of coats with high performance, yielding care for the pet at a very affordable price. We have Organic, vegan, and cruelty-free pet shampoo products for pet grooming. Acai extract, rich in active antioxidants as well as ginger extract, is recognized for its soothing action. This 100% vegan formula will make your pet love their bath time. Shampoo with vegan ingredients and emollients gently cleans and moisturizes your pet's fur and skin, giving it a feeling of smoothness.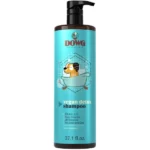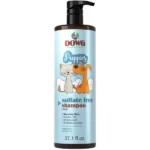 With DOWG Essential Detox shampoo, you've made the right choice for clean, healthy, and happy pets!
Now is the time to invest in quality dog ​​grooming products and supplies to give your dog the best possible grooming and paw care. Dogs will feel and look better after even the simplest at-home grooming session.   You can only keep your dog happy and healthy with the right dog care products. Many pet owners are confused as to why their dog's coat gets worse as they age and how it can be treated. Even the best shampoos can strip the natural oils from your pet's fur. Choosing the right combination of Shampoo and dog conditioner is important.   If you do not use Conditioner on your dog's fur, it will become dry and matted after a few baths. Many pet owners are puzzled why their dogs' coats deteriorate in looks as they age, and this can be helped with a conditioner. 
 Dog vegan Shampoo removes dirt and grime, while dog conditioner repairs and adds shine, and some can help detangle, remove undercoats, and soothe itchy skin. DOWG Essential Conditioner Detangle your pet hair and end hair loss all over your home!   It has a good pH level. This Conditioner can help remove and soften hair, making combing easier and reducing the risk of tangling. You can immediately see and feel that your pet's fur is softer and moist after a shower. A good conditioner retains moisture in the fur and prevents breakage, keeping your dog soft and fluffy. Our Conditioner contains vegan ingredients and essential oils and is free of harmful chemicals. Our powerful yet gentle Conditioner neutralizes and removes unpleasant odors and softens hair!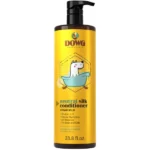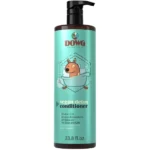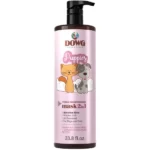 Our best conditioners have fresh and mild scents of fresh fruit with oriental notes. We offer three different hair conditioners to choose from according to your preferences for pet grooming. The convenient pump bottle packaging allows you to use the Conditioner easily, even if you have a naughty pet.
DOWG Essentials is a product that respects animals and the environment. It is designed to meet the most demanding pet care needs.    We have a variety of vegan masks available, such as non-toxic masks, cooling masks, and vegan detox masks.   Moisturizing Mask for animals of all types and coats: Revitalizes the vitality and shine of downy hair with deep hydration. Animal Hair Moisturizing Vegan Mask helps to repair and protect the natural loss of hair. It can be used on cat and dog hair. Dog wash mask reduces frizz for a smoother texture. It promotes healthy hair. It helps to deeply nourish and reduce tangles and knots. It helps relieve dry and irritated skin. They are well-hydrated and pH-balanced.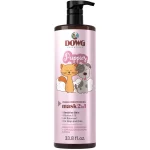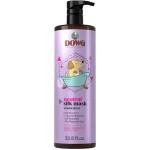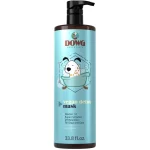 Sensitive skin can be used. The role of the mask is to treat the oil that the shampoo "removes" from the dog's skin during bathing. In this way, the vegan mask nourishes and repairs your dog's hair and skin. Especially for dirty or muddy dogs, it needs to be used to purify the oil "removed" during heavy bathing. A good bath with the Dog mask can relax the dog and provide comfort. It also helps the body breathe better, which indirectly prevents excess moisture that can cause odor and microbial growth on the skin and fur.
If you've never heard of a good cologne, your life as a pet owner is about to change.   Sometimes, the problem is not even in the smell of the spray but in the way, it neutralizes odors that may be present in the dog's fur. This can be a big problem if your dog has thick, hard fur that tends to absorb all the odors around him.   Not everyone can afford to wash their dogs when they don't smell fresh, but vegan cologne or sprays can help clear the problem until the next shower. The pet store is bigger than ever, so even if your pet has a bad odor or allergy, we will have options for them. Enriched with natural ingredients, our milk vegan cologne not only smells good but also provides a long-lasting scent that nourishes your dog's fur.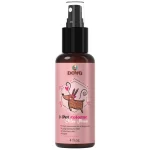 These ingredients add shine to your dog's coat, making it look fresh every day of the week while at the same time nourishing and comforting its skin; it gives your dog good health. The formula is also pH-balanced and non-harmful, so you get the best for you and your dog.   Make your dog smell good with cologne in our best-selling Baby Fresh fragrance. With its sweet scent, this bottle is sure to be a luxurious addition to get your dog moving. Pamper your dog with Vegan Dog Cologne. We care about your pet's health as much as you do, so you can rest assured that this cologne is gentle on sensitive skin and offers a long, appealing scent.   Experience the happiness of bonding with your dog, knowing that your dog is produced with the best materials and with the best pet grooming.
We understand the importance of keeping your furry friends clean and fresh. Bathing your dog regularly not only improves hygiene but also helps protect its coat and skin. But not all dogs like to bathe regularly because, for some dogs' bath time can be difficult, which is why dry shampoos have become a favorite of people, and some dogs may have special health needs that require a different approach other than taking a bath. Get ready to take your fur coat to the next level as we show you the best masks to keep your furry friends clean, comfortable, and happy.   Dry Shampoo is practical whether you have a busy schedule, a dog with sensitive skin, or simply want to reduce the amount of water. 
The best dry vegan shampoos for dogs are carefully formulated to meet specific needs.   DOWG Essential Body Mask is a specially designed pet grooming product that allows you to wash your dog without using water. It comes in powder, foam, or spray form for easy application.    This mask is designed to absorb dirt, oil, and odor from your dog's fur, leaving them smelling fresh and looking clean. The dry pet wash allows you to clean your dog quickly and efficiently, reducing the time required for pet grooming. Vegan Dry Dog Bath Mask is an excellent choice for pets who don't like bathing or have illnesses that prevent them from taking regular baths.    Dry Shower Spray is an easy-to-use deodorant and hair freshener spray. There are two categories: Soft and Strong. It is safe and easy to use.   Our Nourishing Dry Vegan mask is water-free and moisturizes, cares, and smells good to your pet, making your pet look radiant. Thanks to our unique vegan ingredients, dirt, grime, and oil are easily removed without water. The shower is over, and the shirt is shining! All breeds can use this dry mask, which contains harmless chemicals to keep your dog clean and pampered between baths.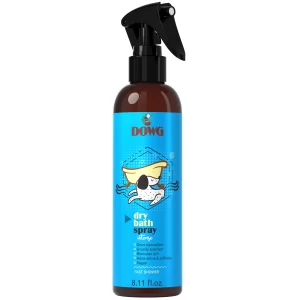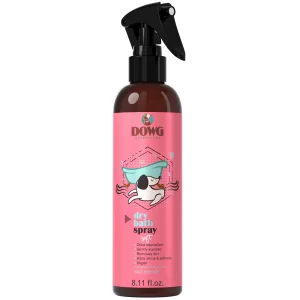 Wash away all that grime and end your pet's incessant scratching with a few drops.
People having dogs as their pets can relate to the fact that ear infections are common. If avoided or left untreated, the condition can worsen, spreading the infection to the inner ear and putting your pet at risk, including deafness, facial paralysis, eye issues, or even worse. So, as a solution, doctors recommend using a trusted pet ear cleaner for dogs on a timely basis to prevent your pet from getting infected in the first place.
This product is a vet-approved, safe, and effective ear-cleaning solution designed for both dogs and cats.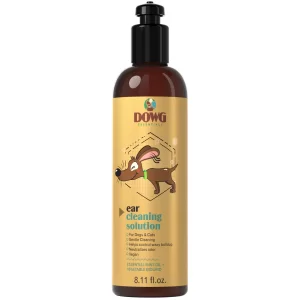 You can clean your pup's ears at home, as much as the thought of it might make you squirm. It is a gentle and soothing naturally derived ear cleaner to help reduce ear pain and itching while removing wax, dirt & debris. This ear cleaning solution is safe and quite effective for ear care, which removes bad odors and works as a non-irritating formula. It works with a unique combination of reliable cleansing and dewaxing agents containing the Ceramide complex required for wound repair. This acts as a medicine for ear infections in dogs. Our Vegan Ear Cleaning Solution safeguards the ears from pathogens with a soothing effect and healing the wounds faster.
Conclusion 
DOWG Essentials is the best place for cat and dog grooming and hygiene at a very cheap rate. Don't wait to avail yourself of this opportunity and become a part of the DOWG Essentials family. Prepare to take your dog and cat grooming to a new level with our advanced vegan products. Our pet grooming products are available at your doorstep. Order in small quantities or wholesale; we have it all. Make your pet feel special!