TRAVELING WITH A DOG
Traveling with dogs can be a rewarding experience. Still, it requires some preparation to ensure the dog's safety and comfort, whether you choose to travel by any means e.g. By car or fly to your destination.

Owners having dogs as pets cannot imagine going on vacation without them, as has been observed. There is also a study that shows that most people consider traveling with pets & most of the pet owners are traveling with a dog. Nowadays, this is common for people to consider their pets when scheduling travel plans.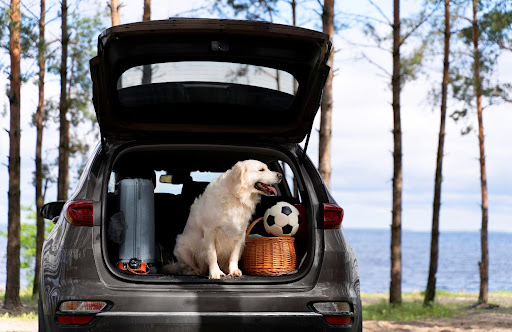 Tips for a Smooth and Safe Journey 
While most dogs are fond of traveling, it can be a stressful experience for both you and your dog if you don't plan it properly. Traveling with dogs is not easy, but it's important to plan and prepare properly to ensure a smooth and safe journey.

Consult with your Veterinarian:
Is your dog fit to go on a trip? Are all of their vaccines up-to-date? Make sure you have all the necessary travel documents, like first aid, health certificates, and identification tags.

Travel Crate or Carrier:
Select a travel crate or carrier that is well-ventilated, comfortable, and the correct size. It's necessary to introduce your dog to the container before traveling with a dog, it will help to reduce stress in them.
The identification and microchip:
Make sure that your dog is wearing a collar and ID tag that contains your contact details. It's worth considering microchipping your dog and registering the chip with your current contact information.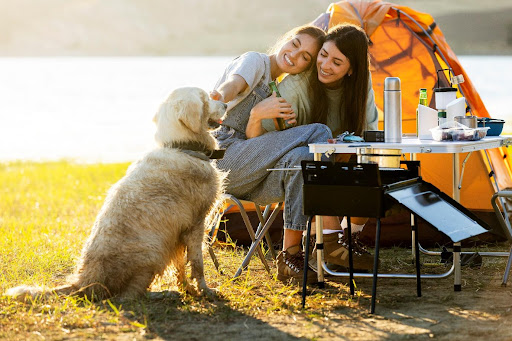 Pack essential items:
Make sure to bring dog food, water, and dishes for your dog to eat. To feel safe, bring along comfortable items such as toys, blankets, and other familiar items. It is the most essential element to do whenever you are traveling with dogs.

Breaks during travel with dog:
Make sure to give your dog regular breaks during the journey so that it can stretch, relieve itself, and exercise. Bring waste bags to dispose of waste during breaks.

Health and Comfort:
During traveling with dogs, it is mandatory if your dog is feeling not okay with stress or feels discomfort. It is vital to have any necessary medications or first-aid supplies on hand.

Emergency
Preparation:
During travel with a dog, make sure to have a list of emergency veterinary contacts along your route and be aware of the location of the nearest veterinary clinics at your destination.

Entertainment:
Throughout traveling with a dog, to ensure your dog is having fun, give them a few new toys and a couple of old favorites. To keep them busy.

When you are traveling with dogs, remember that each dog is unique, so make sure to pay attention to their individual needs and adjust your travel plans accordingly. By carefully planning and considering, you can make the long-distance journey a positive experience for both you and your pet companion.
Take Medications During Travel with a Dog
It is an obligatory step that whenever you are traveling with dogs, take them to the vet first. To ensure their health and whether they can travel or not? When traveling with a dog, it's crucial to have health certificates and records of your pet's rabies vaccination and other shots. Unfortunately, if your dog is affected by any kind of infection, like an eye or an ear infection, you should have some handy medications. Just in case of an ear infection, you can use a Vegan Ear Cleaning Solution from https://dowgessentials.com to remove infection from your dog's ear and bring comfort to him.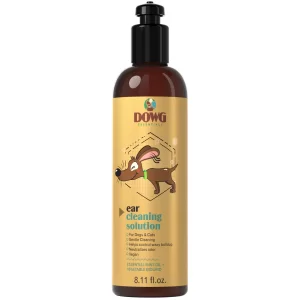 Dry Bath during Travel with a Dog
When traveling with dogs, the most crucial thing is their health maintenance, both internally and externally. If you are traveling with your dog for a long time, then it is necessary to take short breaks for your pet's refreshment. 
Also, if you find your dog dirty and have no time for a proper bath, DOWG presents two dog sprays that instantly make your dog clean and feel light and fresh. They are Vegan Dry Bath Spray soft and Vegan Dry Bath Spray intense. These two products prove to be very helpful when traveling with a dog.

Benefits of Dogs Cologne for travel
 During traveling with dogs, Dog colognes can be a great way to keep your dog smelling fresh and clean. Long car rides or flights can leave your dog feeling and smelling less than fresh.
Using a dog cologne can help keep unpleasant odors at bay and make your pup's company more pleasant for everyone. However, it's important to choose the right dog cologne that is safe for your pet and does not contain any harmful chemicals.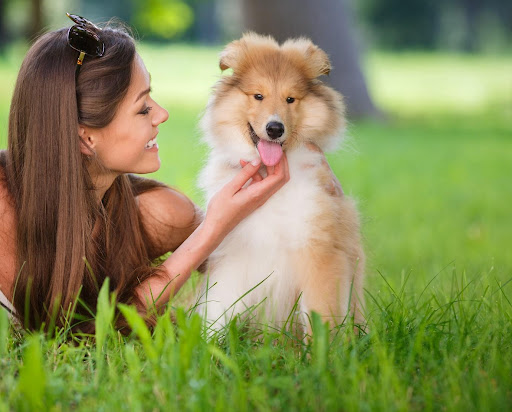 DOWG Essential.com introduces colognes not only for adult dogs but also for your pups.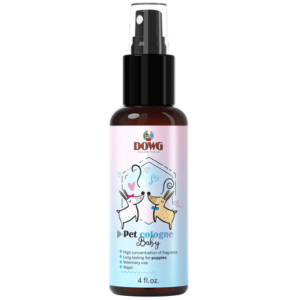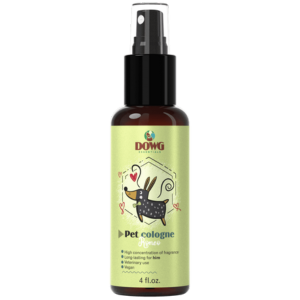 Pet owners can find inspiration in DOWG Essentials.com Colognes, a line of products that are long-lasting and infused with fine fragrances. If you're traveling with a dog, having cologne on hand can help keep them fresh and smelling great.
Using dog shampoo while travelling
While traveling with dogs, it's necessary to keep them clean and fresh. One of the ways to achieve this is by using dog shampoo. Dog shampoo is specially formulated to suit the sensitive skin of your pet and can be used to clean them up while on the go.
As we read above, now, in the modern age, you can clean your dog without water by using bath sprays. If you are running short of time, dry baths or bath sprays are the best option for your dog's cleanliness. However, if during travel with a dog, you find your dog smelly and dirty, and you have no option of sprays. Then, take a break and give a bath to make them feel light, fresh, and happy.
 DOWG Essentials offers pet grooming products at affordable prices and can now be delivered to your doorstep. They have a variety of dog shampoos for adults and pups 
High-quality products you can carry easily when you are traveling with a dog.
DOWG Essentials Vegan Puppies & Sensitive Skin Shampoo is designed specifically for dogs, cats, and other animals with sensitive skin. For adult Vegan Detox Shampoo and Vegan Milk Neutral Silk Shampoo. These shampoos are ideal for all coats due to their high performance and care for the pet.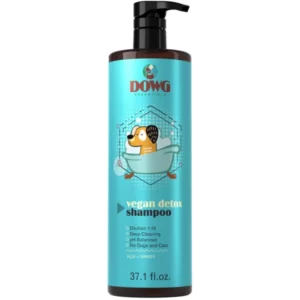 So, next time you plan a trip with your dog companion, consider packing some dog shampoo along with their other essentials.
Preparing your Dog for Travel
While traveling with dogs, it's crucial to practice and prepare them for the journey. Introduce your dog to the travel crate or carrier, and make it a positive experience for them. Take your dog on short car rides to get them accustomed to being in a moving vehicle. Practice taking breaks during the journey and providing them with food, water, and exercise. 
Before committing to a long trip, make sure to take your dog on short trips to get them used to riding in the car. Gradually increase the duration of these shorter trips so that you can eventually move up to long-distance travel with dogs. 

Precautions during traveling with a Dog
While traveling with dogs, there are some needed precautions. Every pet owner should follow these rules.
The driver may be distracted by unrestrained pets, which can lead to a higher risk of accidents. By keeping your pet secure, you can concentrate on the road and maintain control of the vehicle.
While traveling with dogs, one should not leave the dog alone in the car. It might create a stressful environment. Car drivers should be careful about not letting the dog head out the car window. However, some dogs enjoy this and it looks cute to see. But it might increase the risk of accidents.
Reducing the risk of injury:
While traveling with a dog, if sudden stops, turns, or accidents occur, and your pet gets uncontrolled it can result in severe injuries for both the pet and passengers. Proper restraint can reduce the risk of injury in these situations.
While traveling with dogs Make sure that your pet is secure by using the seat belt. It's essential to ensure the dog is calm before opening the car door. Must have a water bottle when you travel with a dog. Make sure that your dog does not drink filthy water as it may upset your dog's stomach.
If a pet is aggressive, it could be a danger to other passengers in the vehicle. In those sudden movements or panics, the pet could accidentally cause harm to the people in the car.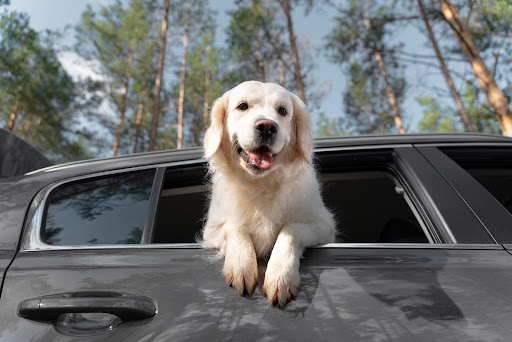 When traveling with a dog, the primary responsibility is their safety. 
Other Ways of Dog Traveling
When you are traveling with dogs, car travel is standard, stale, or familiar. Hence, there are many other modes of transportation to consider. Each method comes with its unique challenges. While traveling with a dog, it is necessary to have careful preparation.
Plane Travel with Dogs:
If you travel with a dog by plane. The below rules must be followed:
Survey airline policies and regulation

Purchasing a pet carrier that has been approved by the airline

Making your pet comfortable with the carrier and travel conditions

Necessary to meet health and vaccination requirements

Tips for bringing pets on international flights.
Train Travel with Dogs: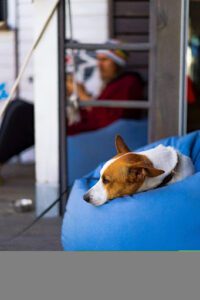 Traveling with dogs on a train requires thoughtful preparation to ensure their safety, comfort, and adherence to transportation regulations. If you're traveling on a shorter or longer journey, follow this guide to have a smooth train travel experience.
Have a look at the pet policies of train companies.

Finding a pet carrier that is both comfortable and safe

Ensuring that your pet has a familiarity with train travel

Allowing bathroom breaks during the journey

Recognizing limitations and factors for various training models
TRAVELING WITH DOGS BY BUS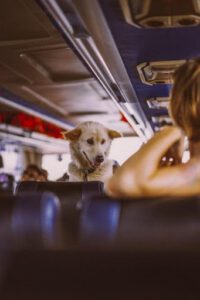 When traveling with a dog on buses or other forms of public transportation, it's important to plan and think carefully to make sure it's a smooth experience for both you and your pet
Exploring the pet policies for public transportation.

Picking suitable carriers for buses or trains while

traveling with dogs

.

Making sure your pet is comfortable with crowds and noise

Behaving in a way that respects the space and comfort of other passengers

Taking care of bathroom needs while in transit
Boat Travel with Dog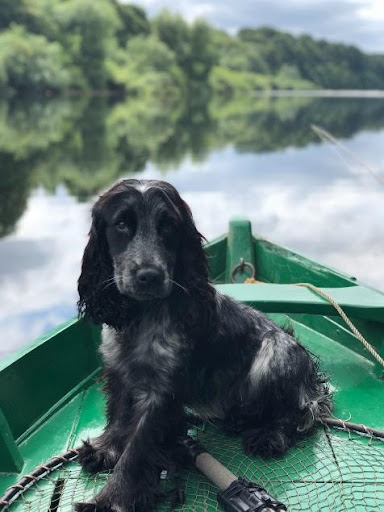 It's possible to have a pleasant and memorable experience when traveling on a boat with your dog.   Before traveling with dogs, start with short boat rides to gauge their comfort with the boat's motion. Be aware that some dogs may experience motion sickness, so observe their behavior. Pets can travel with you on a few cruise lines, but the majority of them are limited to ocean crossings
Examining the policies concerning pets enforced by boat and ferry operators

Introducing your pet to water travel

Making sure the pet carrier is safe and well-ventilated

Make sure to consider seasickness and create a comfortable environment.

Keeping safety regulations in mind while on board
Choosing the right mode of transportation is crucial, and it's essential to tailor your preparations accordingly. When traveling with dogs, it's important to plan for safety and enjoyment for both you and your pet, whether you're flying through the skies, chugging along on a train, navigating busy urban spaces, sailing the seas, or hitting the open road.
Conclusion
To sum up, traveling with dogs can be an advantageous and entertaining experience. Prioritize your pet's safety and comfort by introducing them to the travel environment gradually. Positive reinforcement, consistent training, and a comfortable environment can create a smoother and stress-free journey. By incorporating these strategies, you not only enhance the travel experience but also strengthen the bond between you and your beloved pet.